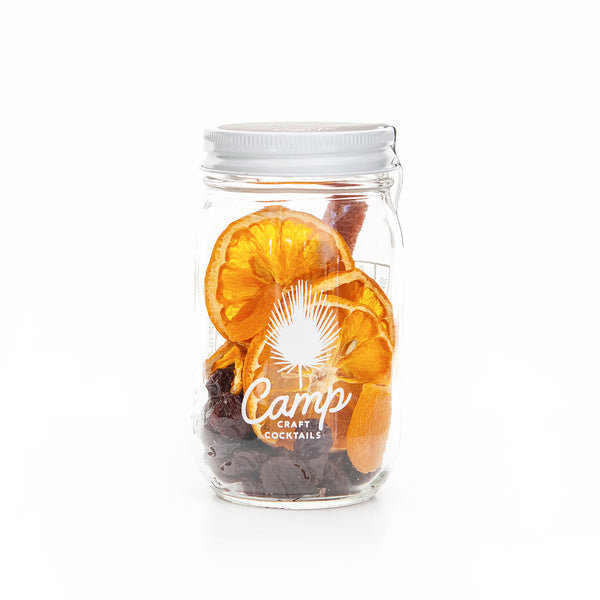 Camp Old Fashioned
Original price
$25.00
-
Original price
$25.00
The new Old Fashioned. The kit that marched on Washington in '63 and '21. The kit that knows where we've been, how far we've come, and how much more work there is left to do. We can't deny Old Fashion's classic Americana nostalgia. But this Old Fashion is here to remind you that you can have Americana with a heavy dose of progress, too.
Ingredients: Cherries, Oranges, and Bitters Infused Non-GMO Vegan Cane Sugar
Infuse with: Vodka, Gin, Tequila, Rum, Bourbon, or Hot Water for zero-proof recipe.
Instructions: Fill your Old Fashioned Camp Kit with liquor. While it's great with any, we like whiskey, bourbon, or rum. Refrigerate for three days to infuse, then strain into another container. Makes eight cocktails.
Mix it Cold: Pour a strained 2 oz shot into a rocks glass over the biggest ice cube you can make. Twist an orange peel over your glass and rub it along the rim, then drop in your glass.
Mix it Hot: Add a 1.5 oz strained shot to your favorite mug of hot tea. Garnish with a cinnamon stick for stirring.
Mocktail: Fill your Old Fashioned Camp Kit with hot water, shake, and allow it to cool. Pour 1.5 oz. strained shot into a shaker cup of ice and 3.5 oz orange juice. Shake for 20 seconds and pour into a chilled coupe glass.
Availability:
Only 2 left!