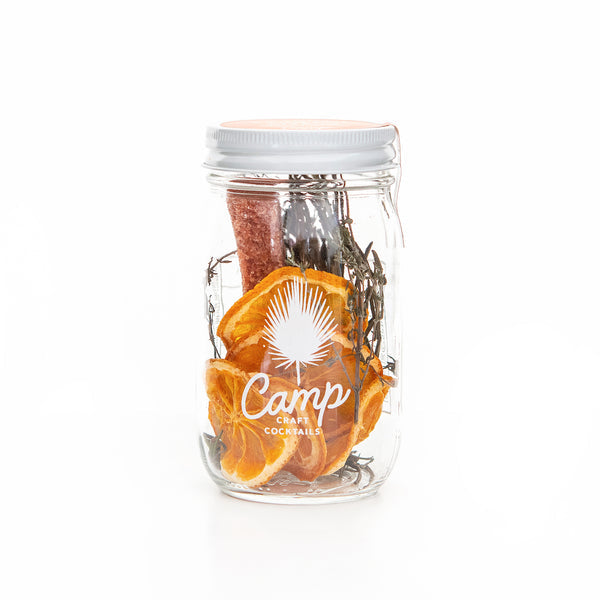 Camp Aromatic Citrus
Original price
$25.00
-
Original price
$25.00
Every cocktail kit tells a story. What's yours, Aromatic Citrus? The kit that started the movement, Aromatic Citrus was the first flavor to be jared for Camp. It's reliably complex and deep, but also approachable. This is the cocktail kit that you give to your bookclub contemporaries.
Ingredients: Orange, Rosemary, Thyme, and Bitters Infused Non-GMO Vegan Cane Sugar
Infuse with: Vodka, Gin, Tequila, Rum, Bourbon, or Hot Water for zero-proof recipe.
Instructions: Enjoy the perfect Aromatic Citrus every time with Camp Craft Cocktails' refined recipe. Fill your Aromatic Citrus Camp Kit with liquor. While it's great with any, we like gin or vodka. Refrigerate for three days to infuse (Don't have 3 days? Microwave your infusion without the lid. Heat but never boil. Allow to cool.), then strain into another container. Makes eight cocktails.
Mix it Cold: Pour a strained 1.5 oz shot and .5 oz orange juice to a champagne glass. Top with cold prosecco.
Mix it Hot: Add a strained 1.5 oz shot to your favorite mug of hot tea. Garnish with a sprig of rosemary.
Mocktail: Fill your Aromatic Citrus Camp Kit with hot water, shake, and allow it to cool. Makes eight zero proof cocktails.
Pour a strained 1.5 oz shot into a shaker cup of ice and add 3.5 oz orange juice. Shake for 20 seconds and pour into a chilled coupe glass.
Availability:
Only 3 left!